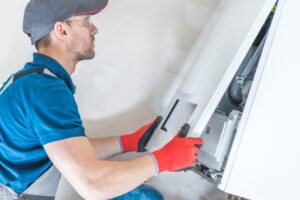 It may seem that summer has barely ended. You're just starting to enjoy all that fall has to offer: football season, family celebrations, and finally a break in the hot weather. But we assure you, no matter how hard you try to ignore it, winter will come. You want to be ready for it when it does get here. And the best thing you can do to prepare is to make sure that your heater will be in good working order for that first cold snap.
Scheduling regular maintenance for your heater has many benefits, and the way to make the most of those benefits is to make sure you get it done promptly. Here are some of the things you can enjoy as a result of your heater maintenance in Bulverde, TX.
Assurance of Safety
Although safety concerns are rare with heaters, it is possible that a heater left without maintenance could develop a leak of fuel or carbon monoxide. When a member of our team comes to inspect your furnace, they will make sure all connections are secure and tight and that it is venting properly.
Increased Efficiency
When a heater runs with minor issues or there is a long time for wear and tear to add up, efficiency is decreased. With maintenance, your heater can run optimally and use as little fuel as possible. This is not just a benefit for your heater and your bank account. The environment will also benefit!
Reliability
Without maintenance, you can't be sure you can rely on your heater when you really need it. There might be a small problem brewing that could suddenly turn into a major issue, and you don't want to wait to find out about something like that until the weather is severely cold. A heater that receives annual maintenance encounters fewer major problems, and thus fewer extensive (and expensive) repairs.
Warranty Compliance
If your heater is new enough to still be under warranty, the agreement may require that you have it maintained every year. If you can keep it under warranty, you definitely should. It can save you a lot of money in the long run.
Long Heater Life
Speaking of the long run, we all know that someday our heaters will require replacement. But that day will come much sooner if your heater doesn't get regular maintenance. The cost and inconvenience of purchasing a new heater and having it installed is something you would really like to postpone—so don't postpone your maintenance!
Peace of Mind
Once your heater has been inspected and any repairs have been completed, all these worries can be set aside. You'll know that you and your family are safe, that you won't be wasting money on unnecessary fuel, and that your home will be cozy and comfortable when the cold weather hits. You can relax and enjoy all that fall has to offer with complete peace of mind.
Contact D'Spain Sales & Service to schedule your heater maintenance today.