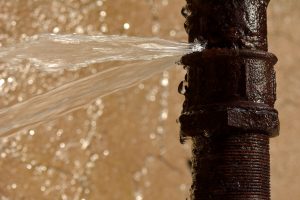 Leaks can occur in many shapes and sizes. There are you typical "cartoon" leaks that manifest themselves as a giant hole in your pipe that is spraying water everywhere in a comical fashion. There are smaller leaks that can remain undetected for months. There are dangerous leaks that contribute to rotting wood and mold growth. Seriously, we could go on forever about the types of leaks and what we see on a daily basis.
We're not just here to talk about the different types of leaks for no good reason. We want you as a homeowner to better know these leaks so you can tell when it's time to call a plumber in Kerrville, TX. Waiting too long to call for help while you're suffering from a leak is a recipe for disaster. So, let's get into some of the signs you might be suffering from a leak!
Signs of a Plumbing Leak
The first step to working around a plumbing leak is finding the leak in the first place. Without the leak detection, you're never going to know when damage is being done to your home or when you're suffering from a leak at all. Take a look at some of the signs below to see if you are suffering from a plumbing leak.
Wet spots. When water escapes from your pipes and enters your home, it might be in an area that you're not in contact with all the time. Your pipes could be leaking in the basement, attic, or perhaps the guest bedroom. It's a good idea to take a look around every once in a while and notice if there are any wet spots. Wet spots almost always signify a leak somewhere, since that water has to have originated from a pipe.
Check the water meter. If you think you're suffering from a water leak but you're not entirely sure, try shutting off all your water-consuming appliances and take a step outside to check your water meter. If it tells you that you're still using water even if you're sure you're not, then it could be from a water leak.
Low water pressure. When there's a hole in a pipe that's pressurized, it could lead to lower water pressure. If you've noticed that your showers or sinks are running at a lower water pressure than they should be, it could be due to a leak.
Mold or Mildew. Leaks that go unnoticed can often cause mold or mildew to grow which can be bad for your health and home. If you notice the smell of mold or mildew in certain areas of your home, it could be the product of a leak.
We'll Take It From Here
Locating which pipe is leaking and how to deal with the issue is something that only a professional can do accurately. Once you think you've got a leak, or even if you're unsure, it's always a good idea to call our team to have expert plumbers check out the issue.
Call the pros at D'Spain Sales & Service for fast and reliable leak detection today!