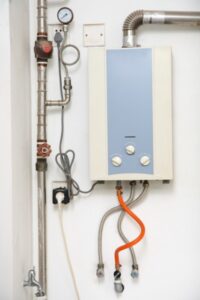 If you're thinking about replacing your water heater sometime in the near future, you might be wondering about some of the different options that are on the market these days. What are the advantages and disadvantages of the various types? What will work best for your home? How much hot water do you actually use? And why are there such significant differences in cost?
We'd like to discuss tankless water heaters today, and one of your top concerns might be that they are more expensive than tank or storage water heaters. It's true! What if we could demonstrate that you would actually save money with a tankless water heater, even though the system is pricier? Give us a chance, and we'll lay out our case.
Initial Price
It's pretty easy to find a tank water heater in the $500 range, and there are definitely models that cost even less. Tankless water heaters, though, start out at around that price but can easily cost well over $1000. 
Installation
There may be a higher cost of installation with a tankless system, but that depends on a lot of factors. For example, some tankless models are set up for different venting or gas-supply connections, so alterations may need to be made to your vent or gas line to accommodate them. This is something you can discuss with a technician in order to make a choice that you're comfortable with.
Water Use
Some estimates suggest that each person in a household uses 10-15 gallons of hot water per day. This means that a two-person household might use as little as 20 gallons, or a four-person household might use as much as 60. 
Energy Consumption
The Department of Energy says that about 20% of your home's energy usage is spent heating water. They also estimate the savings that using a tankless system for heating your water could represent. In households with high water use, more than 80 gallons per day, a tankless water heater could reduce energy consumption by 8-14%. The savings are even greater in smaller homes. If your family uses 41 gallons of hot water or less per day, heating that water in a tankless system could cut energy use by 24-34%. This could mean dramatically reduced utility bills, meaning that every month you will recover some of your initial investment.
Life Expectancy
How many months of reduced energy consumption would it take to offset the cost of getting a tankless water heater? It could take quite a while. However, you'll have plenty of time! While water heaters that use a tank can last for 10 or even 15 years with regular maintenance, tankless models significantly outlast them. They don't encounter as much corrosion, which is a huge factor in the demise of most tank water heaters. So they can last for 20 years or longer, giving you reduced utility bills the entire time. 
Your Personal Needs
When you're considering water heaters in Kerrville, TX, it can be incredibly helpful to have the advice and expertise of a professional. We pride ourselves on taking everything into account when making recommendations so that you can fully understand all your options and make a choice that you'll be happy with for years to come.
Contact D'Spain Sales & Service with all your water heater questions.