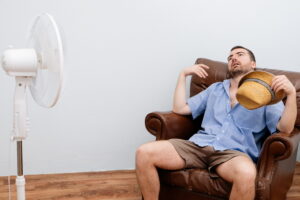 It's best to avoid major problems with your air conditioner by scheduling regular maintenance. That way, minor issues can be cleared up before they cause your AC unit to stop working.
But sometimes, an air conditioner suffers a sudden major malfunction. It may refuse to work at all, or it may be exhibiting symptoms that indicate it's best to keep it turned off for safety reasons or to avoid making the problem worse until you can get air conditioning repair in Spring Branch, TX.
D'Spain Sales and Service does have excellent emergency air conditioner repair, available 24/7, and ideally your unit will be up and running again within a few hours. But occasionally a problem does take longer to resolve if, for example, an unusual part has to be ordered. If you're going to be without air conditioning for a day or longer during a stretch of hot weather, there are some things you can do to increase your comfort in the meantime.
Get Out of the House
During extreme weather, local cooling stations are sometimes available to keep folks without air conditioning safe and comfortable. A movie theater or mall can offer a break from the heat. A friend or family member may allow you to "chill out" at their home. Even being outdoors, if you can be out of the sun but in the breeze, especially near a body of water, can make you more comfortable. But since these options may be unrealistic for you, there are things you can try at home, too.
Keep the Sun Out
Blocking the sun from entering your windows can make a big difference. If you're overheated, you definitely don't want to feel like you're in a greenhouse. Cover your windows while the sun is directly on them. If you don't have blinds or curtains, consider tacking up a sheet to block the light.
Don't Produce Extra Heat
It might be obvious that using your oven or stovetop would create additional warmth in your home. But taking a hot shower or running your dishwasher will raise the temperature, too. And if you have incandescent light bulbs, even those contribute to overheating. Avoid or limit any of these causes of heat.
Use Cool Water
Maybe you're so hot that you wish you could just lie in a bathtub full of ice cubes. But that's not convenient when there are other things you have to do. (And it might be a risky activity if you have any health conditions that could be triggered or worsened by extreme changes in temperature.) Another option is to soak your feet in a tub or bucket of cool water, but for the most portable version, just dampen a washcloth and put it on the back of your neck as you go about your business.
Run a Fan
Ceiling fans or box fans don't lower the temperature. But they can help you to feel refreshed. And in combination with a cool washcloth, they can make a huge difference to how you feel.
Our team will work hard to ensure you can return to air-conditioned comfort soon, but in the meantime, perhaps these tips will bring you a little relief.
Contact D'Spain Sales & Service with any questions about air conditioner repair.