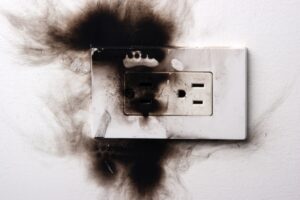 GFCI might be an acronym you've heard before, but you might not be as familiar with it as you'd like to be. That's okay! This blog post is all about GFCI protection, why certain outlets require it, and why your home might be unsafe if you don't have it. Many homeowners choose plug-in lamps and lights for their indoor lighting in Kerrville, TX, but that could be a problem if you're using these kinds of lights to light a bathroom or kitchen without GFCI protection.
Keep reading to learn more about GFCI protected outlets, and if you think your home needs them, then be sure to call our team for support. Our licensed electricians can get all of the outlets in your home grounded, and keep the outlets in your bathroom and kitchen from becoming fire hazards or electrocuting anyone in your family.
What Are GFCI Outlets?
GFCI stands for ground-fault circuit interruptor, and it's an amazing bit of technology that already exists in millions of homes throughout the country. These systems can detect a power surge, like from a lightning strike or contact with water, and they can immediately disconnect the electrical current in 1/40th of a second!
In terms of safety, these systems are unmatched by any other type of outlet. Stopping the flow of electricity that quickly when something is wrong can be a huge safety mechanism that makes these systems must-haves in kitchens and bathrooms. They're so effective, that most rental apartments or insured homes actually require GFCI outlets in all kitchens or bathrooms, or any room where there's water.
Now that you know what they are, we can better figure out whether your home is perfect for an electrical upgrade.
Why Are GFCI Outlets Only in Kitchens and Bathrooms?
Kitchens and bathrooms are vital locations for GFCI outlets, because they can cut the power to an outlet when it comes in contact with water. Your hairdryer or your electric toothbrush won't short circuit or accidentally shock you because the outlet will shut down before this happens. Even when you take a shower and humidity causes the room to fog up and collect in certain areas, a GFCI outlet will protect you.
Other rooms don't deal with the same amount of water that kitchens and bathrooms do, and that's why they're not necessary. But if you've got a sink or a vanity station in your room with access to water, then you might want to consider this kind of outlet!
Does Your Home Require an Upgrade?
We don't want to just stop at GFCI outlets, we also want to talk about normal grounded outlets. In this day and age, it's normal to have all of the outlets of your home grounded so that your devices and appliances are protected from a power surge. If you've got a set of outlets that are ungrounded, or if you're noticing that all of your home outlets are ungrounded, then you should get in touch with us ASAP!
Call D'Spain Sales & Service for an electrical upgrade that works.