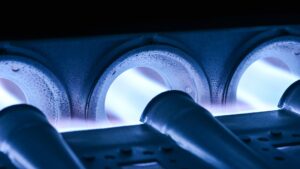 It's that time of year again. Air conditioning season has come to a close and it's time for heating season. But what exactly does that mean for you?
Sure, you might need to start thinking about your heater. You might see your fuel bill for your heater start to crop its head up while your energy bill dwindles down, but is that really something that should concern you so much that you'd read a blog post about it? Probably not.
What's important is the status and condition of your heater here in Texas. If you need a maintenance appointment or heating repair in Bulverde, then this is the perfect time to get it done. Temperatures at night will start to get chilly, and you'll be left frustrate and uncomfortable if your heater breaks down again. It's time to avoid that by being proactive.
Stay Vigilant
Your heater depends on you to address problems as they come up, replace the air filter regularly, and overall keep an eye out for anything that goes wrong. Homeowners might like to ignore their heating or cooling systems, but all that does is let small problems get bigger. So, here are five easy tips that could start you off on the right foot!
Replace the air filter. We know that we already mentioned this but it's so important that we figured we'd mention it twice! When was the last time you replace your heater's air filter? Last year? Don't remember? That's not really a problem as long as you replace or clean the filter before you start your heater up for the year. Your air filter is in charge of cleaning the air that enters your heater to keep interior components safe.
Get your system repaired. You might have felt lucky when you made it through the whole winter without needing to pay for that pesky repair, but now the game has changed. You're going to want to address that repair from last year before heating season really gets underway. Otherwise, that small problem could turn huge and into a potential breakdown.
Schedule maintenance. Maintenance is absolutely essential for the efficiency and efficacy of your system. It can be scheduled way in advance, so you don't need to worry about scheduling conflicts. Just give us a call and tell us when it might be best for us to inspect your heater.
Listen for noises. Noises are some of the most obvious ways to tell if your heater has a problem. If your furnace is booming, your heat pump is short-cycling, or something else is going wrong that's making a loud noise—be sure to call us for help. It's up to you to notice when there's a problem afoot.
Perform a safety check-up. If you've got a gas furnace then you don't need us telling you how important safety is. Make sure you call for help right away if you smell gas or if you start suffering from dizziness, fatigue, nausea, memory loss, or any other problem that could be due to carbon monoxide poisoning. Or, call us to inspect your system for you!
Getting your heater ready for the season really is that simple. Call D'Spain Sales & Service if you need help today!