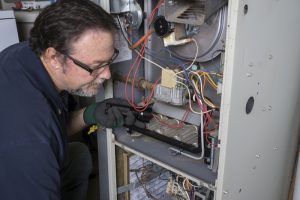 We know, we know.  Temperatures are still pretty warm out there. Many homeowners are still, undoubtedly, running their home cooling systems. Yet here we are introducing a heating topic already. What gives?
Well, as we said in the title, it's only a matter of time. What's only a matter of time? The drop in temperatures, that's what!
Sure, it is going to be a while before daytime temperatures approach anything that you'd consider "chilly." But what about nighttime temperatures? We're already looking at the low 60's. Soon it'll be the upper 50's, and they'll only drop from there. And, remember, heating maintenance is a preventative measure. You're supposed to be scheduling it before you need to put your heater back into regular rotation!
So today, as we've done before, we are going to walk you through some of the reasons why a professional heating tune-up is so necessary. And remember, you definitely want to be scheduling your heating tune-up in Bandera, TX with experienced, qualified technicians—like us!
Keep Warm and Cozy Reliably,
When you need your heater, you need your heater. You need it to start up reliably, and you need it to run consistently. If you skip over something as important as professional heating maintenance, then there is no way that you can really hope for this to be the case. Might your heater succeed throughout the season? Sure. Is it worth the risk? No, not at all.
Your heater is going to incur some general wear and tear over the course of the heating season. When you schedule annual maintenance, you can have that wear and tear addressed before it really starts to cause problems for your system. This greatly reduces the risk of your heater suffering operational issues when it's working its hardest—most likely when you need it most!
Efficiently,
You need to heat your home effectively. You want to do so efficiently. And you know what?
We believe that you deserve to do so. However, that ball is sort of in your court.
When you schedule annual heating maintenance, you'll be able to enjoy the most efficient performance that your home heating system has to offer. Will routine maintenance somehow make your system more efficient than it's been rated for? No, of course not. It can help it to achieve and maintain its own maximum efficiency levels throughout the heating season, though.
and Safely.
This, if you ask us, is the big one. You deserve to heat your home reliably and efficiently, sure. But you deserve to, and absolutely must, heat it safely, as well. This is the biggest benefit of scheduling annual heating maintenance with a member of our team.
We're not trying to scare you off of using your heating system, obviously. We just want to remind you that a poorly maintained heater may be one that is not functioning properly, and that may mean that it's not working safely. Take advantage of all the peace of mind that professional maintenance allows for.