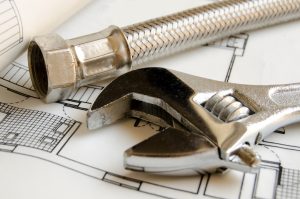 Leaks and clogs are the two most common plumbing problems faced by homeowners, and the usual reaction is to simply take care of the problem yourself. Cleansers and snakes are available at any hardware store to deal with clogs, while enterprising do-it-yourselfers might take a stab at repairing plumbing leaks on their own. In most cases, this is a huge mistake, and you would be better off calling in a professional plumber to handle the situation. Why? There are several reasons.
Thoroughness
Cleansers are designed for a one-size-fits-all approach, which can leave pieces of the clog in place. That means they will reform quickly, forcing you to use the same method over and over again. Plumbers, however, can use specialized tools that clear the whole clog away, ensuring that you don't have to deal with it a few weeks or months down the line.
Tools
Similarly, with a leak you may have to play guessing games to determine where the leak is. Plumbers, on the other hand, can use expensive equipment that most homeowners won't have use for more than a handful of times at the most. Things like video camera technology and sound detectors can pinpoint the location of the leak very quickly, and get it taken care of that much faster.
Training
All of these techniques work in part because the plumbers using them have the training to get the job done. They deal with problems similar to yours on a weekly basis, and have the skills required to properly implement them. That means the problem gets fixed quickly and with no fuss. It also means that you won't have to worry about it over and over again.
For proper plumbing services in Bulverde, TX, call on the friendly professionals at D'Spain Sales and Service to set up an appointment!