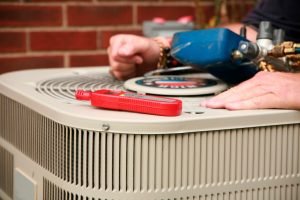 We're moving out of heating season and into cooling season, and that means your air conditioning system is going to be put to increasingly frequent use over the next few weeks. Soon enough, you'll be running it every day in order to keep your home cooling in the face of stifling temperatures, and in order for it to do that, it needs to be in peak running condition. The last thing you need is a sudden AC breakdown just your thermometer clears 100 degrees.
A good air conditioning repair service can move quickly and take care of issues with consideration and care. But frankly, you don't need to wait for a breakdown to treat an issue with your air conditioner. Jumping on a repair issue early can save you a lot of trouble, and likely a fair bit of money as well.
Check Your System Now
As soon as the weather gets warmer than about 75 degrees, turn your air conditioner on and let it run for about 20 minutes. As it does, keep an eye out for anything out of the ordinary that might indicate a problem. You should never formally diagnose a problem with your AC — that takes formal training and licensing — but you likely can spot any of the common symptoms of trouble simply by turning the system on and paying attention to its behavior.
Some of the more common signs of AC trouble include, but are not limited to, the following:
Warm air, or air that isn't as cool as it should be coming from the vents.
Low airflow coming from your vents, which you can spot either by feeling the air from the vents with your hand, or by tying a length of ribbon to the vents and watching it when the system is on.
Strange noises, which mean anything you don't normally recognize as part of your system's normal operations. in most cases, they will start and stop in time with the starting and the stopping of your air conditioner.
Short cycling, which means the system turns on and off rapidly multiple times throughout the day. Air conditioners use far more energy turning on and turning off than they do simply running, which makes short cycling a serious problem.
When you spot these issues, turn off the system and call in an air conditioning service right away.
Schedule Maintenance for a Formal Check
A maintenance session every spring is another good way to spot the signs that you need repairs before they shut your air conditioner down. It resembles a tune-up, as the technician arrives to give the system a thorough going over. If any problems can be spotted, the technician will schedule a formal repair session to deal with them. The technician will also correct any little issues with your system as part of the session: little things like loose bolts that don't merit a repair call on their own. That, in turn, improves your system's efficiency dramatically and can help you cut down on high energy bills.
For quality air conditioning service in Boerne, TX, call the friendly professionals at D'Spain Sales & Service, Inc.!