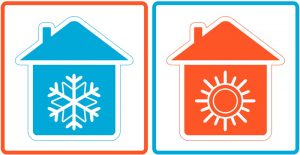 If you're like most homeowners in our area, you're probably wondering how to shave costs off your home expenses during the most expensive time of the year. While not as expensive as that new roof you've been putting off, taking care of your HVAC system will help you avoid unnecessary energy costs this summer. Every little bit counts.
Well, we're happy to say that we've got a few tips that any homeowner can benefit from. Read on to take advantage!
Maintain Your AC
First things first: please make sure that you have your AC maintained at all times by a trained professional. It's the best way to ensure that problems don't creep up on you unexpectedly and that your AC operates at peak efficiency and effectiveness during our hottest months.
A good air conditioning maintenance will ensure that the various major components are in good working order, that they are tuned-up, and that airflow moves throughout the HVAC system efficiently. One thing that you can get started on right now is putting in a clean air filter, but that's something pro maintenance will take care of quickly. View the details of our AC maintenance plan.
Take Care of Repairs Immediately
Don't sit and wait on a problem that you know is there. There are plenty of things to get distracted by as a homeowner, but considering our weather, keeping tabs on your HVAC system is crucial.
You'll want to keep an eye and ear out for any signs of trouble. What should you look for? Here' are some common indicators:
Hot and Cold. If you notice that one area of your home is hot while another is cold (and you didn't request it that way via a zoned system adjustment), then you've got a problem. It could be a broken damper in the ducts or there might be a thermostat issue. Whatever it may be, you'll want to get it sorted ASAP.
Weird sounds. Take it from the pros on our team. If you hear something unusual, don't ignore it. It could be grinding, banging, whooshing, or buzzing. Chances are that if it sounds strange, then it's worth investigating.
***Right now, you can SAVE $25 OFF A SERVICE CALL WITH ANY HVAC REPAIR!***
Upgrade Your Thermostat
The thermostat is your key to comfort. Remember that! If you're still using an older thermostat that has to be manually adjusted when you're too hot or cold, then it's a good time to upgrade to a smart or wifi thermostat.
Not only does this give you unprecedented control over your indoor climate (and makes that process a bit more, well, fun), but it also will save you money. Programming it according to when you and the family will be at home or at work (or school) ensures that you only pay for the AC that you need this summer. You can also adjust it remotely via your smartphone!
Contact D'Spain Sales & Service, Inc. today for air conditioning services in Boerne, TX and surrounding areas.