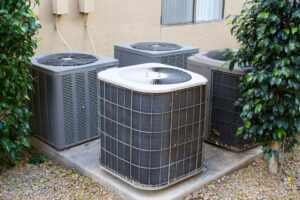 Air conditioning problems can take many forms and make many different noises, which is why it's important to get the right information from certified experts. Don't just assume you've got a refrigerant leak or some kind of compressor failure if you're not actually sure that's your problem. The first thing you can always do in this situation is to call us for more information. Not only can we give you a better picture as to what's going wrong with your system, but we can send a technician over to get a closer look so you know you're in good hands.
Until that happens, we're going to assume that your air conditioner problem is like many others we've seen. Most of the air conditioning repair in Kerrville, TX we provide is based around a few simple fixes that happen all the time.
We're going to go over the most common AC repairs we run into and talk about how you can tell if you're suffering from one.
Let's Start With the Basics
The biggest reason why we like to talk about common AC problems is because most air conditioners are in the same situation. During the summer, we start running our AC systems more, our air filters start getting clogged up, and based on a few factors that can be obvious, your AC will inevitably run into a problem. Let's talk about some of the most common AC problems that can occur and see if you're the victim of one.
Refrigerant Leak
Refrigerant leaks are pretty common problems and their symptoms can be seen in multiple locations. For starters, a refrigerant leak can lead to poor comfort levels and lukewarm air, it can lead to higher energy bills, and it can also be noticed from a hissing and bubbling noise that comes from your system. Don't let a refrigerant leak go on without professional help, because it will soon lead to the inefficiency and eventual breakdown of your system.
Clogged Filter
When temperatures are sweltering hot it can be easy to forget that your AC needs its air filter replaced. A clogged air filter can start inhibiting airflow, causing your energy bills to rise and your comfort to suffer. This can even impact your indoor air quality as you breathe in more dust and debris. Change your air filter monthly when in the hottest months of the year to ensure you're getting the most out of your system.
Misaligned or Broken Component
If you're hearing a rattling or clanging coming from your system, then you're likely dealing with a part that's gotten loose. While this might not seem like a bad problem initially, it can quickly turn awful as that component bumps into several other components of your system. Soon you'll have many parts misaligned or potentially broken as a result of this one small issue that should have been fixed.
Electrical Problem
We drain a lot of power from the energy grid during the summer. If you're dealing with constantly tripping circuits, or a system that keeps shutting on and off abruptly, you could be in need of some major AC repairs. Don't worry, electrical problems can usually be fast and affordable to repair, as long as you're hiring a licensed professional for the job.
Contact D'Spain Sales & Service for help with your AC repairs.