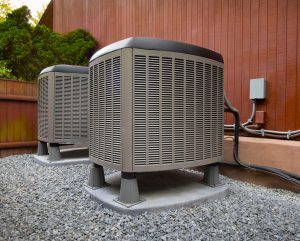 Heat pumps work as both heaters and air conditioners in one, using the principles of air conditioning to both cool your home in the summer and heat your home in the winter. Heat pumps are economical and effective, and recent advances have made them a better option than ever. But like any other appliance, heat pumps run into trouble from time to time, and when they do, you need to get them addressed quickly. With summer on its way, you can't afford to just sit on a problem. The good news is that the right technician can usually solve the problem quickly.
You should never attempt to diagnose or repair a heat pump yourself. Heat pumps contain potentially dangerous components like refrigerant, and without formal training and experience, a layman is apt to make the issue worse. Having said that, you don't need to be an expert to spot the signs of trouble and call in a professional service when you do. Strictly speaking, anything that you don't recognize as part of your heat pump's normal features is cause for concern. More specifically, look for the following common symptoms of a serious problem in your system.
No Cool Air
A lack of cool air is an obvious sign of trouble, but so too is cool air that isn't as cool as you'd expect it to be. If the air is actively hot, you should check the settings to make sure the unit isn't set to "heat" instead of "cool." Otherwise, there's definitely an issue. Warm air can be caused by an overheating component, a lack of refrigerant, or sometimes a breach in the ducts pulling warm air in. The technician can diagnose the exact cause and correct it quickly.
Strange Noises
As your heat pump runs, you'll likely become accustomed to the noises it makes without ever realizing it. When an odd or unusual noise enters into the equation, you're likely to notice it immediately. It could be anything from a grind to a hum to a rattle to a moan. In most cases (but not all) the noise will likely start and stop with the starting and stopping of the unit itself.
Short Cycling
Short cycling is a condition whereby the heat pump turns off and off rapidly multiple times throughout the day. It's extremely hard on your system, since turning on and off uses much more energy than simply running, and can be caused by anything from malfunctioning electrical components to an overpowered system.
Unexpectedly High Bills
Sometimes, you might not spot anything overtly wrong with the system, but the issues cause it to work much harder than it should. That's usually a precursor to a major component failure or some similar crisis. You can notice it by spotting an unexpected spike in your monthly cooling bills, especially a high bill that comes when you're using your heat pump at about the same level as you always do.
Never try to run a heat pump that is experiencing problems. You will only make the issue worse. Instead, call upon the experts at D'Spain Sales & Service, Inc. for quality heat pump repairs throughout the Kerrville, TX area!