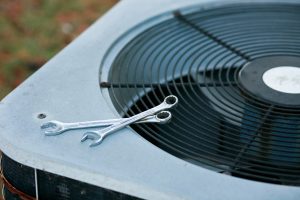 Summer has officially begun, and with it, we'll be hit by another long season of sky-high temperatures and sweltering humidity. You're going to need your air conditioner to respond all day every day in some cases, and when trouble comes, it tends to come at the worst possible time. If you haven't had your air conditioner serviced in the last twelve months, now is the perfect time to schedule an appointment. You'll be able to reap the benefits all summer long.
What Is It?
Maintenance differs from repair calls, which are designed to correct a single specific problem that the technician has diagnosed. Instead, it's a kind of catch-all tune up, allowing the technician to look for big problems before they become a nuisance, as well as treating smaller problems that wouldn't merit a repair call on their own. In the case of small issues like loose bolts and frayed wires, the technician can fix it on the spot. If something more substantial is required, the technician can spot it and go over your options with you before proceeding They can provide a number of considerable advantages and potentially save you a great deal of money.
What Kind of Benefits?
There are three basic advantages to getting air conditioning maintenance at least once a year.
Repairs. If serious repairs are needed, the sooner you can spot the signs of trouble, the better. In the first place, it usually costs less to fix a problem sooner, since the damage hasn't had as much time to spread. In addition, it gives you some flexibility as far as scheduling repairs: letting you do so according to your timetable, instead of shuffling things around in a rush after an unexpected breakdown.
Efficiency. Maintenance sessions entail little steps like tightening loose bolts, lubricating moving parts, changing the filters and the like. That in turn helps the system use less energy when it runs: lowering the monthly energy bills in comparison to similar use before the maintenance session took place. That can add up to quite a bit during the hot months of summer, and the sooner you can schedule the maintenance session, the sooner you can enjoy the savings that it can bring.
Longevity. When applied regularly over time, maintenance sessions help lower the risk of an unexpected breakdown, and the attendant repair call to fix it. Not only that, but they can often help the air conditioner continue to function effectively long after the warranty has expired: extending its use by months or even years in some cases. Considering the costs of replacing a used air conditioner, you want to get the most use out of your existing unit that you can. A yearly maintenance session could end up saving you thousands of dollars' worth of use that you might not have otherwise gotten out of your existing unit without the maintenance.
If you haven't scheduled a maintenance session for the AC in your Helotes, TX home, give the team at D'Spain Sales & Service, Inc. a call today!