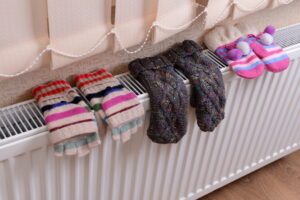 Most homes in our area are powered by electricity. With that, most of those homes have heating systems that are also powered by electricity. As the power grid gets upgraded and more sustainable sources of energy start pouring in, we're likely to see our electric heating systems increase in popularity over the coming years. This is a good thing!
However, it's important that you get your electrical heating system, whether it's a heat pump or an electric furnace, repaired by a professional technician so you're in good shape for the future. Heating repair in Boerne can be expensive when homeowners try to fix things themselves or start calling amateurs that live down the street.
Our team specializes in the repair of these kinds of systems, and we can help diagnose the problem starting today! Let's talk about some common electric heating system issues that you might encounter.
Tripped Circuits and Overloaded Electrical Systems
The first and most important thing we need to mention is the specific case of tripped circuits and home electrical systems that get overloaded. Electric furnaces, heat pumps, and other electric heating systems all have one thing in common—they require an immense amount of electrical power that comes from your home. If your home isn't ready for this power draw, or it's struggling to provide the heater and all of your other appliances with electrical energy, then it's going to run into problems.
Take tripped circuits for example. A tripped circuit could mean that the electrical system was overloaded, or there was some kind of power surge. While fixing a tripped circuit is a pretty easy repair for a technician, it's not always that simple. Constantly tripping circuits can point to a home electrical system that's not designed to power your heating system or your other appliances. This is going to require more extensive work, and it could even require the repair or replacement of your heating system.
Improper Sizing and New Home Additions
If your electric furnace is running up the bill or causing electrical malfunctions in your home, it could be due to an internal problem with the heater. But it also could be due to the system being incorrectly sized.
Think about it, if you've had any new home additions recently or your home's space has drastically changed, your heat pump or electric furnace might not be built to handle heating that amount of space. This means you might need a new heating system, or your old system will start to struggle and require constant repairs as it breaks down from the wear and tear of overuse.
Dirty or Unmaintained System
Lastly, we think it's important to talk about a dirty or unmaintained system. If your electric furnace has a clogged air filter, or if your electrical heat pump has dirty coils, it's going to run less efficiently and start having problems. Most of these issues can be circumnavigated with routine maintenance and some best practices, but others require professional help. Don't be afraid to call our team when you need help with your electric heating system.