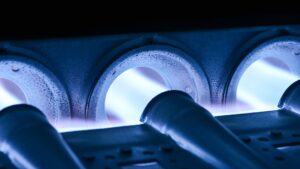 Furnaces require maintenance just like any other heating system, but when you've got a gas furnace, there's one additional aspect you need to consider. Safety is always the first priority, but it's something you're going to want to remember each year when you go to turn on your system for the first time, or start investigating a problem.
Don't get us wrong, gas furnaces aren't dangerous. They're designed with safety measures in place so that they can easily heat your home without problems. And, to make matters better, they've got protocols to shut down whenever a safety issue does come up. But things can go wrong, especially after years of neglect and missed maintenance or repairs, and your furnace could start operating unsafely.
That's why you need to invest in an inspection. This is the furnace service in Boerne, TX that will set things right for the rest of the year.
What Do We Inspect?
First, let's talk about our inspection process. When a technician comes to your house to inspect your furnace, they've got a long and lengthy inspection checklist that will ensure your system runs safely. This process is similar to a home inspection or a cooking recipe, it's designed to be simple and easy to follow while checking every single component of the system (both off and on) to spot any problems or inconsistencies.
This process is actually incredibly thorough and it's almost impossible for us to miss a budding problem, a misaligned component, or a rising safety concern. We're absolutely confident in our ability to keep your home safe, so leave the inspection to us!
What's the Difference Between Furnace Maintenance and an Inspection?
This is a good question. While maintenance and an inspection happen at the same time (when you sign up for maintenance), they work towards two different goals.
The maintenance part of our appointment focuses on keeping your system running effectively and efficiently. We lubricate components, fix tiny issues that are starting, and adjust the system so it can better meet your needs. This is purely for your comfort and home efficiency.
The inspection part of our appointment is just to ensure that it's safe. Usually, this can tie into the maintenance appointment, where safety issues will come up while we're fixing other components.
Basically, you can rest assured that we'll never leave your home without having addressed a safety concern that we might have found.
How This Service Helps
An inspection is going to give you the peace of mind to carry on with your life throughout the rest of the winter. You never have to be worried about your furnace operating poorly or threatening the safety of your family. Sure, you should always remain vigilant, but we're confident in our ability to make your home safe.
Match this safety inspection with a maintenance appointment, and you'll also achieve better comfort in your home and higher efficiency levels. Your utility bill should be lower and you'll be set for years to come!
Call D'Spain Sales & Service to set up a furnace inspection today!