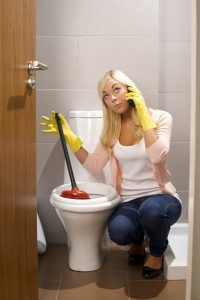 We get it. You're not going to be calling our plumbers just to check up on them. And that's fine. We know that you appreciate us, but it's just not that kind of relationship. That being said, we are going to take issue if you're not calling us when the need for a plumber arises. And after today's post, "Well, I didn't realize that I really needed to call a professional plumber" will no longer be a valid excuse!
When you need a plumber in Boerne, you know that ours is the number to dial. The only problem is that many homeowners don't seem to know when they need a plumber in Boerne! For some reason, a lot of people that would never attempt to service their electrical systems are still trying to service their own plumbing—or, at least, to ignore signs of trouble. We say no more! Read on, and remember that a member of our plumbing team will fix the problem right the first time.
Your Drains Keep Backing Up
This is a big one, hence its place at the top of the list.
STOP TRYING TO FIX PLUMBING CLOGS ON YOUR OWN.
At best, you will free up enough of the clog to allow water to bypass the rest of it. Eventually, and before too long, you are going to wind up with a clog again. Why? Because the parts of the clog that you left behind are going to trap materials and build right back up again.
No, dumping those store-bought chemical cleaners down the drain is not going to resolve the problem. No, you cannot hope to effectively remove a clog with a drain snake. Yes, our plumbers have the skill and expertise not just to free up some of the clog, but to clear them out and to clean drains for lasting results.
You Have Low Water Pressure
Well, it's annoying, but I can deal with it. 
DON'T JUST DEAL WITH IT!
Low water pressure is always a problem, and it is not one that you should just be content to live with. It could mean that you have a leak in your main water line. It could mean that you have leaks in pipes passing behind your walls. It could mean that you have hard water deposits in pipes that are restricting water flow and allowing pressure to build.
Trust us, the results of ignoring this problem will be a lot more inconvenient than the "inconvenience" of the symptom.
Those "Minor" Leaks Are Persistent
Minor or not, leaks need to be resolved right away.
DON'T JUST IGNORE THEM!
Why not?
Well, because you are paying for every drop of that water that drips down those drains. And you're not using that water. Which means that that water you've paid for is a total loss. You wouldn't dump cash down the drain, right? And not just because that'd probably lead to further clogs! So don't ignore leaks, either!