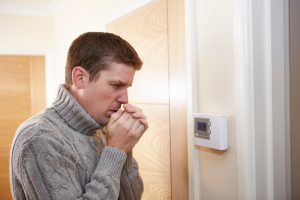 We're just barely out of the hottest time of the year, and these people want us to start thinking not only about our heaters, but what might go wrong with them? Give us a break, will you?
Look, we get it. We are not alarmists, and our goal certainly isn't to work you up into a state of paranoia about what could potentially go wrong with your heating system this coming winter season. That being said, well—there's a lot that could go wrong!
Because it is always going to be in your best interest to schedule heating repairs in Boerne, TX as soon as you notice the need for them, we've put together some helpful tips to help you recognize the need for this service to begin with! Keep your sense on high alert, and let a member of our team know right away if you suspect that your heating system is in trouble. Our goal is to keep you warm and cozy efficiently and reliably all winter long.
Your Heater Shouldn't Be Draining Your Budget
Not all homeowners have highly efficient heaters in place. Those homeowners that do not are accustomed to paying relatively high prices for their comfort during the summer season. In such instances, high heating costs are not cause for alarm. Regardless of how efficient or inefficient your heater may be, however, a spike in your heating costs that you cannot account for is cause for alarm.
You are not going to be heating your home for free, even if you use the most efficient heater on the market. That being said, we don't want you overpaying to heat your home, especially not when the root cause of the problem is an operational issue that may be causing other problems you're simply not aware of yet. If your heating costs are skyrocketing, contact us right away.
Your Heater Shouldn't Sound Like It's Ready for Takeoff
Hydronic boilers may be the closest to it, but no heater will really work completely silent. Whether it's the sound of a combustion chamber firing up or the gentle whoosh of air being forced through ductwork, you are going to hear noise of some kind when heating your home. If that noise sounds more like a jet engine gearing up for takeoff than a heater, though, you're in trouble.
Anything from screeching sounds to loud grinding noises or clanging bangs from within the heating cabinet should have you reaching for the phone to dial our number. Do not ignore any such problems just because you think you can drown them out. If you choose that course of action, it won't be long before you have serious damages on your hands.
Your Heater Shouldn't Be Running Erratically
Does it seem like your heater starts up and then shuts off way too quickly? Does it seem like this happens again, and again, and again? If so, then your system is short cycling. And that can have long-lasting consequences.
Short cycling wastes energy while negatively affecting heater performance and putting a lot of unnecessary strain on the system. It can be caused by something as simple as a very dirty air filter or as serious as a refrigerant leak! If your filter is clean and your system is short cycling, you need to contact us right away.