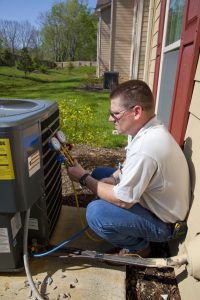 If your air conditioner is on its last legs, now is the time to get a new one installed in your home. Spring has officially arrived, and summer won't be too far behind. Hot temperatures seem to come sooner every year, and often linger well into the fall. If you have an old, worn out air conditioner in your home — one that struggled to do the job last summer and might not be up for another marathon of temperature control — replacing it with a new one can provide a number of benefits.
New air conditioners tend to turn much more efficiently: cutting down on monthly bills, reducing the chances of breakdowns and giving you the peace of mind that comes with reliable service. A good technician can ensure that your new system is functioning as effectively as possible, and ensure that your home is covered for high temperatures the moment the thermostat starts to rise.
In addition, there are three things you should consider when looking for a new air conditioner. Your service technician can help you with your options, but the more you understand about them going into an air conditioning installation operation, the better.
1. Make Sure Power Output Levels Fit
The cooling output of your new air conditioner needs to be carefully balanced against the needs of your home. If it's not powerful enough, it will run and run all day without ever getting your home cool. If it's too powerful, the system will engage in a process known as short cycling" turning on and off rapidly many times throughout the day. Air conditioners undergo far more strain and waste far more energy turning on and turning off than they do simply running, which means an overpowered system is just as wasteful as an underpowered one in many ways.
The technician will measure the square footage in your home, as well as factoring in things like the presence of insulation and the amount of sunlight exposure to arrive at the perfect power levels for your new system: neither overpowered nor underpowered, but just right.
2. Check those Efficiency Levels
Once you've determined the power output of your new air conditioner, the next step is to find the most efficient unit in your size and price range. (Efficiency determination needs to wait until you've sized your system: an undersized unit that is ostensibly more efficient is going to lose that efficiency because it runs more often than it should.) Air conditioning efficiency is measured in a SEER rating, which stands for Seasonal Energy Efficiency Ratio. The higher the rating, the better the air conditioner does at keeping costs down.
3. Look at Upgrades
A new air conditioning system is a good opportunity to add needed upgrades to the system to further help your bottom line. For instance, if you have an older thermostat, you might want to replace it with a newer "smart thermostat." Or if high humidity levels are bothering you, look into a whole-house dehumidifier to be installed along with your new air conditioner.
For high-quality AC installation services in Boerne, TX, call on the friendly professionals at D'Spain Sales & Service, Inc.