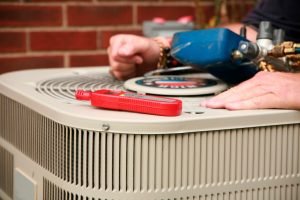 Winter is all but here, with cold temperatures in the forecast for the foreseeable future. That means your air conditioning system is probably the last thing on your agenda right now, shelved in favor of focusing on your heating system and other components to your home pertinent to wintertime comfort.
That doesn't mean you should forget about your air conditioner, however. Surprise heat waves are not uncommon in the winter, and when the warm air arrives for good in March or April, you want your system to be ready to handle it.  That starts now with a little judicious planning.
Did Your System Have Problems?
If your air conditioner developed issues over the course of the summer, you might have kept using it with the understanding that you would get it addressed in the spring. A number of repair issues give subtle signs that something is wrong well before a breakdown occurs. If you spotted them before you stopped using your AC for the year, you might want to schedule a repair session before the spring. They can include.
Low Air Flow
A Lack of Cool Air
Unexpected Spikes in Monthly Costs
Strange Noises.
Short Cycling.
Plan a Maintenance Session
On top of formal repairs, we strongly recommend scheduling a maintenance session for your system once a year. Maintenance resembles a tune-up on your car: helping the technician improve efficiency by tightening loose bolts and similar small steps. If further repairs are required, a maintenance session lets the technician check for them and schedule a session well before the weather gets warm enough to need an AC. Winter makes an excellent time to schedule such a session since it allows you to set it up according to your timetable.
For quality air conditioning services in Bulverde, TX, call on the pros at D'Spain Sales & Service, Inc. today!