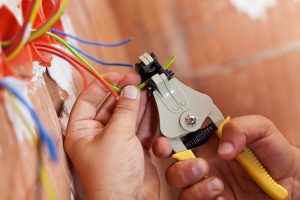 Your home's electrical system is arguably the most important part of it. Without it, modern life simply isn't possible, as it's required for everything from lights to heat to your computer system to your water heater and everything in between. When problems arise, it's not just a matter of comfort or luxury. It can bring you home to a standstill, and possibly even create a safety issue as well.
We live in Texas, and we rightfully pride ourselves on getting things accomplished without a lot of help. When it comes to electrical power, however, it's always best to leave things to a professional. Trained, licensed electricians can safely diagnose a problem and make repairs that work. Attempting to do so without the proper experience can create a fire hazard.
That said, you still need to be able to identify the signs of trouble when they appear. Specifics will vary, depending on your home and the exact nature of the problem. However, common signs that you need an electrician can include the following:
No Power. This is an obvious sign of trouble, and one you shouldn't need any advice to spot. If an electrical appliance or power switch isn't working, check the breaker to make sure it hasn't been tripped. Assuming that's not the source of the problem, it's time to call in an electrician.
Breakers Keep Getting Tripped.  Speaking of the breakers, if you find yours constantly being tripped no matter how many times you reset them, then there's an issue that needs fixing. Turn the breaker off and contact a professional to look into the problem.
Electrical Shocks. Winter is the season of static electricity, and it's not uncommon to get a little shock from it when you touch a wall or metal source. If it occurs at a light switch or similar electrical outlet and the air isn't especially dry, however, then you're likely looking at a problem with the electrical system.
Heat from Fixtures. It pays to periodically feel the area around the fixtures in your home for warmth. Poorly insulated fixtures may build up heat and cause problems with the electrical system.
Flickering Lights. Flickering lights stem from intermittent electricity in most cases, which often means fray or damaged wires, or faulty connections. An electrician can solve the problem quickly in most cases.
Smoke or Burning Smells. This is perhaps the most serious sign of trouble with your electrical system. If there's no obvious cause for the smells or smoke, it may be coming from somewhere inside the walls. Shut off power to the affected area immediately before it starts a fire.
Older Wiring. Older homes often have older wiring, which can be problematic when it starts to wear out. This is especially true if you have an old-fashioned fuse box instead of modern breaker switches in your home. In these cases, it's best to update them with modern components before they cause any trouble.
For electrical services in the Boerne, TX area, call the friendly pros at D'Spain Sales & Service Inc. today!