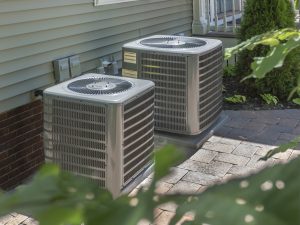 Air conditioners don't last forever, and now that we're coming up to another summer season—the systems that are in bad shape need to be replaced when they start breaking down. The difference between vigilant homeowners and homeowners who neglect their HVAC systems is knowing when to make the switch to an AC replacement if your old system is showing signs of wear and tear. Take it from us, an inefficient air conditioner can sometimes be worse than the cost of replacing a system with a new one.
So, we're going to talk about some of the overt signs that your air conditioner is on its last legs and might not last through this upcoming summer. If any of the points about AC replacement in Boerne, TX sound familiar, then we'd highly recommend an air conditioner replacement before the scorching temperatures are in full swing.
Determining the Difference
Figuring out whether or not your air conditioner is ready for replacement, or if it could just use a few repairs and continue working per usual is complex, to say the least. That's what we're here for. If you keep reading, we'll be listing out all of the signs that your air conditioner needs more than just a simple repair job, and in each of these cases, a replacement will probably save you the most money in the long run.
Age. Air conditioners are only supposed to last between 10-15 years before they should be replaced. This is not just to get homeowners to constantly purchase a replacement, rather it's because air conditioners start running incredibly inefficiently and ineffectively beyond that point. Sure, you could keep your ancient air conditioner for as long as you want, but the cost to run that machine will skyrocket and your budget will suffer from it.
High energy bills. Is it costing an arm and a leg running your air conditioner throughout the summer? This isn't supposed to happen, and your air conditioner should be replaced if it's going to run inefficiently to the point of costing you more money than it should!
Ineffective cooling power. Let's be honest, an air conditioner's entire purpose is to keep you comfortable. If it can't meet that standard, then you're better off having it replaced by a system that can keep you comfortable.
Frequent repairs. An air conditioner is supposed to need repairs every once in a while in its life, that's expected. However, an air conditioner that is forcing you to constantly call for help multiple times per year is too much of a pain to deal with. Having your AC replaced can mitigate this problem and make your life a whole lot easier.
Expensive repairs. We have a general rule of thumb here at D'Spain—if repairs cost more than half the price of a new replacement air conditioner, then it's a financially sound decision to purchase the replacement instead of getting your old system repaired.
When it comes to replacements, you're going to need a team that's well-equipped and licensed to handle your system with ease. Luckily for you, we're the local team to get the job done right.
Contact the team at D'Spain Sales & Service for an AC replacement today!