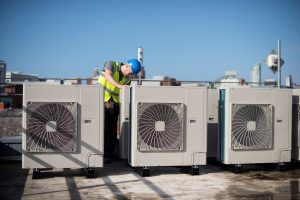 Late summers in Texas are very hot, and whenever the air conditioner in a home goes down, it needs to be restored to service quickly. As serious as residential HVAC repair calls are, however, commercial HVAC repair calls are even more important: not only to be handled correctly, but to be dealt with as swiftly as possible.
Why?
Most of us spent the bulk of our days in a commercial space of some kind or another: an office, a school, a retail business or the like. That means that commercial HVAC systems are responsible for our comfort most of the time. When they go down, it can mean a lot more than our comfort. Hot days can destroy key business components like hard drives or stored product. They can also force you to send your employees home – costing you in lost time – and will emphatically drive customer or potential business partners away.
Who Best to Treat It
Obviously, you should rely on a service with experience in commercial HVAC systems, rather than one based solely on residential businesses. But beyond that, they need to be able to operate swiftly and do so without disrupting your regular business. The faster they can move, the more readily you can contain any fallout, and the faster you can get your employees back to work. But at the same time, they need to be prepared to work after hours: not only in the event that the problem can't wait until morning to address, but if you need repairs to take place while your employees are home and your place of business is closed.
If you own a business or manage an office space in the Boerne, TX, and you need a trained team to take care of your commercial HVAC system the right way, call on D'Spain Sales & Service, Inc.