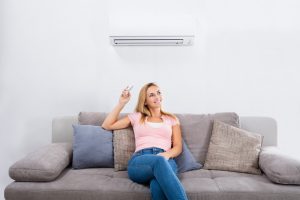 Let's face it: we are all looking for ways to save a few extra bucks each month. In fact, if there is one thing that you'll often hear HVAC technicians talk about it is energy efficiency and why it is so important. When your home is energy efficient, you'll spend less time worrying about costly repairs and high energy bills. Of course, winter here in Texas is anything but harsh. However, it is still important to ensure that your HVAC system is as efficient as possible. So, how do you do so?
There are many ways to boost energy efficiency, one of which is to take control of the ways in which you heat and cool your home. A zone control system grants homeowners ultimate control over their heating and cooling systems, increasing efficiency and lowering monthly utility costs. In this week's blog, we have outlined some of the many advantages of installing a zone control system in your home. Keep reading below to learn more! 
What is a Zone Control System?
A zone control system is a series of dampers that are installed throughout the ductwork of your HVAC system. These dampers can open and close to direct the flow of air through the ducts, splitting them into different zones. Each zone may be controlled by an individual thermostat or a master thermostat.
How You Will Benefit
Energy Efficiency: Far too often, homeowners waste tons of energy heating and cooling unoccupied spaces of their home. With a zone control system, you'll have the ability to control exactly which rooms will be heated or cooled throughout the day. Plus, individual thermostats make it so that you can control the temperature of the air going into each room, allowing for even greater efficiency.
Comfort: One unique advantage of a zone control system is the ability to create individualized comfort. The use of individual thermostats makes it so that you can adjust the temperature in one zone without affecting the comfort of another family member.
Fewer Repairs: When your heating and cooling systems are energy efficient, it will require fewer repairs. This is because they will no longer have to work as hard to circulate air throughout your home, reducing the amount of strain put on each system.
Reduced Heating and Cooling Challenges: Certain architectural features can prove to be a real challenge to your heating and cooling systems. Features such as high or vaulted ceilings, loft spaces, basements, and wall-to-wall windows make it difficult for your HVAC system to evenly heat or cool your home. With a zone control system, you can separate these spaces from other areas of your home, allowing for even heating and cooling.
Call a Professional for Installation
When the time comes, you will need to hire a professional to install your new zone control system. Professional home heating services in Boerne ensure that your zone control system is properly integrated into your existing HVAC ductwork.
For all your heating and cooling needs, contact D'Spain Sales & Service, Inc. today!