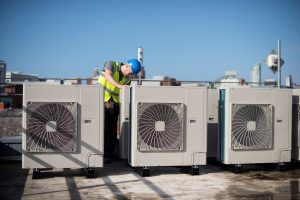 Texas summers are hot and brutal, which means air conditioners are an absolute necessity on a daily basis. Indeed, they're as important to your home as plumbing and electricity during the hot summer months, and the same is doubly true if you're operating a business or managing an office space. Most of us spend the bulk of our days at an office, a retail business, an industrial site, or a school, all of which require commercial AC systems to function. The loss of power in such a system can devastate your operations: driving away customers, sending employees home and grinding productivity to a halt. In the worst cases, they can even damage vital equipment like computer systems.
Proper commercial air conditioning is essential to keeping your business running, and in most cases, we recommend modular rooftop units to meet the needs of commercial spaces. It may seem irrational, especially considering the extremes of local weather, but rooftop systems are built to handle it. In exchange, they provide a number of benefits to help keep your business running the way it needs to.
Changing Demands
Businesses rarely remain static. They grow and change to meet the needs of the market: expanding to add more employees and shifting their operating parameters to meet new demands. That means the air conditioning system needs to be able to grow and change to deal with those demands. But you can't simply tear out the existing system every time you add a few new employees or install more computer hard drives.
Modular systems provide the answer to that. You don't need to remove any part of the system. You simply connect another unit to it to increase cooling power and continue on your way. You can also cut off any existing units if your air conditioning needs shrink, again without affecting the system as a whole. The roof makes the perfect place for modular units because the space is flat and rarely used: giving you ample opportunity to expand the system as needed.
Easy Workspace
Workspace in this case means both your employees' workspace and the workspace required by an air conditioning technician. Placing the air conditioner on the roof frees up space inside the building (and on the outside grounds in some case), which means more work stations, more storage space, more room for computers and other equipment, and even more parking spaces for your workers and customers.
Furthermore, when repairs are needed or a new unit must be installed, you don't want the air conditioning technician moving through your work space or bringing heavy equipment inside the building. Rooftops are easily accessed and keep the technician out of the way of the work that has to be perform, allowing him or her to move upstairs and do the job without distracting anyone. In the even heavier equipment is needed, it can simply be lifted to the rooftop via a crane, which keeps the interior of the building pristine.
For commercial AC installation and service in Kerrville, TX call D'Spain Sales & Service, Inc. today!