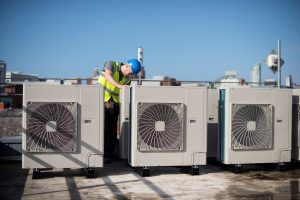 Every building in the area requires proper air conditioning, and that applies to commercial businesses as well as residences. If you own a business in the area or are charged with managing a business space, you need to ensure that your air conditioning system does the job. With the summer over and autumn underway, it's likely time to get your air conditioner serviced and check for any problems that may have developed over our long, hot summers.
When you do that, make sure you call a service that deals with commercial systems specifically, instead of someone who knows only residential systems. Why? in the shortest possible terms, because commercial systems differ tremendously.
Not "Like Home, Only Bigger"
Most people assume that commercial air conditioners are simply more powerful versions of residential air conditioners. Certainly, that's part of what commercial systems do. But commercial properties are much more than bigger versions of houses. For example, accommodations must be made for the upper stories of office buildings, since heat rises and the high floors are naturally going to be a lot warmer than lower ones. Many commercial buildings have multiple tenants as well, some of whom may have much different cooling needs than others. And many businesses have very specific cooling needs require precise control over the temperature in certain parts of the office.
All of that means that you need a service that understands the specifics of your system and can address problems in a way that handles the details required to make your system function. That often means a lot more than it might with a residential system.
Speed Is Of the Essence
Household air conditioners are vital to keeping your household comfortable. However, while addressing a problem with a home air conditioner requires speed, it's even more important in a commercial setting. A malfunctioning HVAC system can force your employees to work in oppressive conditions, or make you send them home for the day. It will also send customers away in droves, or at least leave them with a negative impression of your business and an unwillingness to return. All of that can have a big impact on your bottom line.
It goes further than that, however. a malfunctioning AC can damage core pa0rts of your business, such as temperature controlled products and computer systems that might overheat without it. Even worse, you might not be able to conduct operations until the issue is fixed, or at least will need to send your workers home while the system gets fixed.
A good commercial technician can not only arrive quickly and fix the problem in a jiffy, but can work around your workers, or even better work after hours so that the operation doesn't interfere with the remainder of your company. Look for technicians who offer emergency services 24/7, as well as dedicated commercial repair operations.
If your business needs a reliable commercial AC technician in the Boerne, TX area, call on the friendly technicians at D'Spain Sales & Service, Inc. to get the job done!