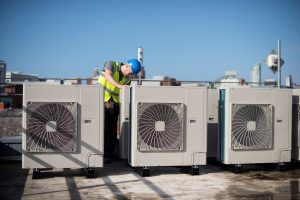 A packaged HVAC unit is a unit that places all of the components of your HVAC system in a single unit. This differs from the more common and popular split HVAC systems, which divide components between indoor and outdoor systems. You often see packaged HVAC units on the roof of commercial properties, and most of the time, packaged units are exposed to the elements. That can make them more vulnerable to wear and tear, and damage (when it arises) tends to be more extensive than it might with a more traditional unit. That said, there are still a number of benefits for packaged HVAC units, and if you're thinking of installing one, you would do well to consider them. They can include, but are not limited to, the following:
It saves space. Homes with outdoor space at a premium can save that space by installing a packaged unit. The same holds true for rooftop units in both a residential and commercial setting. Packaged units are extremely space effective without skimping on heating and cooling power.
It makes maintenance and repairs easier. Because packaged units are all self-contained, the technician can usually check it very quickly, as well as getting the problem fixed without undue fuss.
It's convenient. Packages units don't cause a lot of disruption with their noise, allowing you to go about your business uninterrupted. Furthermore, if the unit is located on the rooftop or in a similar out-of-the-way location, the technician can conduct maintenance or repairs on the system without having to enter the building. This is helpful for any structure with packaged HVAC units, but especially businesses or commercial enterprises that need a comfortable environment without distraction.
If you need a packaged HVAC unit installed in your home or business here in Boerne, TX, or your existing unit needs some work, call D'Spain Sales & Service, Inc. today!