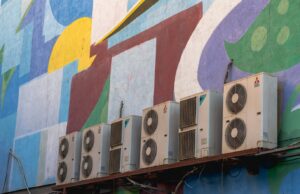 It's been a hard year, and we've been making sure to ask all of our beloved customers about how they're doing. We view everyone in this community as friends and neighbors, so don't hesitate to strike up a conversation with one of our staff members and tell us how you're doing.
However, in all this hubbub, when was the last time you looked at how your air conditioner was doing? It's starting to warm up, which means our AC systems are starting to run in full force. Some homeowners are starting to panic because their air conditioning in Boerne isn't running like it used to, and they're scared there's something they overlooked.
Don't worry, our team is here to help. Let's go over some common springtime problems with AC systems, and try to narrow down a few things that could be plaguing your system.
How Well Does It Operate?
Many homeowners like to revel in the fact that their air conditioner still works, but that might not be good enough anymore. Just because your AC is working, doesn't mean it's working well. Part of investigating how your AC is doing also involves looking into some of the more complex parts of the system. Let's brainstorm just a few ways your system could be letting you down:
Inefficiency. If your air conditioner is running up your energy bill more and more each year, then it's not working very well. Why don't you replace the air filter and call us to take a look and see if we can improve the efficiency?
Poor cooling power. What's the point of having an air conditioner if it's not keeping you cool and comfortable? Poor cooling output means the system isn't working very well.
Constant repair needs. An air conditioner should only need repairs every once in a while. If you need repairs every year, then you're likely dealing with a system that needs an upgrade.
Strange Noises and Smells
Noises and smells are a really good indicator that something is wrong with your system. Sure, it might still work while it's grinding away or rattling in the basement, but its days are numbered if it's going to keep running like this.
Noises. Sounds like rattling, clanging, shaking, screeching, hissing, or grinding are never good. These always require the help of a trained professional.
Smells. Sometimes a clogged condensate drain in an air conditioner can lead to mold growth. You'll notice a foul odor come from your vents when this occurs. Keep your home healthy and your system running smoothly by calling our team to help.
If You're Unhappy, Tell Us
It's really simple, if your system isn't making you happy, then it's time to call us. We're not just run-of-the-mill HVAC technicians, we're specialists. We diagnose problems, come up with out-of-the-box solutions for AC needs, and we're experts on making the technology work for you. Let's discuss your options and see if we can't make some demonstrable improvements in your home's comfort.
It's time to call D'Spain Sales & Service for your air conditioner repair needs.