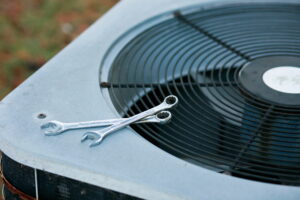 This is a good question, and we understand why homeowners would ask it. Wouldn't it be easy if we just gave you our proven inspection list and all the tips required for performing AC maintenance on your own, and you just did it yourself? It sounds like that would be more convenient, but the truth is that this would probably lead to more problems. One of our values as a company is being responsible to our customers and our community. We're a family-owned, third-generation business, which means that many of our customers are close friends and neighbors.
Air conditioning maintenance in Boerne is a lot more complicated than just following a list of handy tips. It's not like building a garden, or some other kind of home DIY project. Air conditioners are incredibly complex, and even one small problem could lead to expenses down the line.
The Problems With DIY Maintenance
We're going to be honest with you, DIY maintenance isn't as much of a cost-saving technique as you might think it is. When you do a home renovation project, like painting your walls or refurnishing your living room, there's room for error. If your room is painted the wrong color, the lines aren't straight, or if something just doesn't turn out how you want it, it's usually just a small expense and a bit of time to fix the problem. Sometimes this can even be a fun project where you enjoy fixing the problem in your DIY work!
However, with your air conditioner, it's not nearly as fun or simple as other DIY projects. Air conditioning systems are complicated, they're responsible for keeping your home cool during our hot summers, and to the untrained eye, they can look like they're running just fine when they actually aren't.
It's All About Expenses and Efficiency
Many new air conditioning installations come with a warranty. This warranty is vital for saving you money, because it ensures that every repair that's performed on the system is covered by the manufacturer. However, most–if not all–warranties require yearly professional maintenance, otherwise they're voided. This is serious, because skipping one maintenance appointment, or trying to do the maintenance yourself this year, is going to mean your warranty isn't up to date.
Here are a couple other reasons why DIY maintenance is not a good idea:
DIY maintenance usually means more expenses in the long run. If you accidentally bump a component or misalign a part of your air conditioner, you're going to need repairs to get it back in good shape. This is usually more expensive in the long run than just paying for professional maintenance.
A system that's not professionally maintained is going to run less efficiently. Efficiency is important when it impacts your bills every month. By signing up for yearly professional maintenance, you're ensuring your system works at peak performance and efficiency.
Professional maintenance is smarter, cheaper, and downright much easier than trying to do this kind of work yourself. Save your time and energy on a more fun project, like setting up your patio and decorating other interior spaces of your home!
Call D'Spain Sales & Service to sign up for AC maintenance today!